Ecocittą, one of the most prestigious green neighborhoods in Italy
Ecocittà project is one the best italian examples of smart-city and green building. On a great and abandoned industrial area close to the sea the company Firma Engineering decided to establish this great project in Porto Potenza Picena, in Le Marche.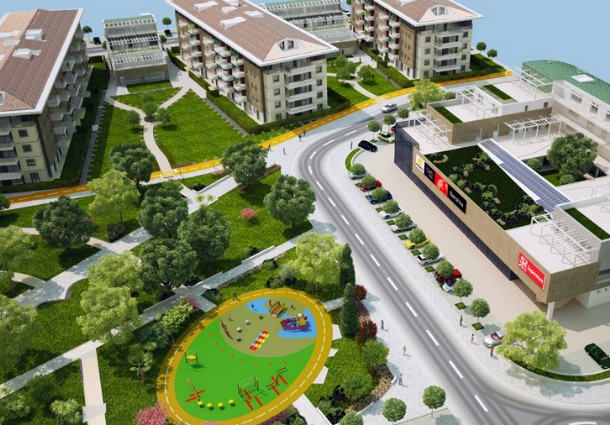 The reasons are many: if we want that our new buildings are really green and respect the environment the first thing to do is RECOVER spaces already built and not destroying areas (that can be used for green or for agriculture) with concrete where in the middle of towns and city there are a lot of abandoned and ruined places that are a problem for security and for aesthetic. Ecocittà will totally transform the abandoned area in a new concept of living: a new neighborhood of the city with 10.000 square meter of green spaces, a large square of 5 thousand square meter and other 25.000 reserved for commerce and offices.
The spaces reserved for living consists in 500 units: apartments (150 reserved for social housing purposes) and villas. The revolution of Ecocittà is the introduction of green building in the Italian tourism industry, the experiment of smart city it will not just for people of the city but for visitors also, and when the work will end Porto Potenza Picena will be a great and special places where find villas for rent in Le Marche.
A new concept of life, not just daily routine and not just vacations, Ecocittà puts things together and develop a special place where live, work, spend some hour or stay for some days, enjoying the beach and the attractive Region.
In Italy the problem of uncontrolled urban development is extended and dangerous: a thousands of beautiful landscapes are destroyed without remedy by ugly buildings, cement pavements, and a lot of "ruins of our century": buildings started in time of speculations and never ended or abandoned. Ecocittà can be the way to teach that there's other way to make houses, create spaces for business and tourists, respecting environment and human life and having for results a place where is very nice to stay in.
The hope is to see more Eco cities around Italy the beautiful land in danger that needs and deserves a new way of build. To forget the old songs, Big Yellow Taxi, one of the first songs with environmental concern, that says "they paved Paradise and put up a parking lot" something that really happened, unfortunately, in different places of Italy.